Keto Porridge - Vanilla & Cinnamon
Regular price

Sale price

$11.00

Unit price

per
Description

Delicious porridge made with premium ground vanilla beans and cinnamon. Suitable for low carb keto diet.


Each pack makes 6 serves.

Can be served hot or cold.

* Keto friendly
* No added sugar 
* Gluten-free
* Suitable for diabetics
* Plant based sweeteners
* No artificial ingredients
* No maltitol or xylitol (we love you and your dogs!)
* No seed oils or starches


Super easy to make - just add preferred milk eg. coconut, almond etc.

Ingredients:
Flaxseed Meal
Lakanto sweetener (non-GMO Erythritol, Monk Fruit Extract)
Chia Seeds
Organic Coconut Flour (no sulphites)
Cinnamon
Ground Pure Vanilla Beans (no pesticides)

Created with love on the Mornington Peninsula, Victoria.


Low carb porridge is delicious HOT or COLD and can be topped with whipped cream/coconut cream, chopped nuts or berries for even more indulgence.

We proudly use a small amount of LAKANTO® to sweeten our porridge (a combination of Monk Fruit extract and non-GMO erythritol). Monk Fruit was used for centuries in eastern traditional herbalism to increase chi and well-being, earning it the nickname "The Immortals' Fruit". LAKANTO® still grow and harvest Monk Fruit in the same pristine area and according to traditional and environmental methods.
Ingredients

Ingredients: Flaxseed Meal, Lakanto Sweetener (Non-GMO erythritol, Monk Fruit Extract), Chia Seeds, Organic Coconut Flour, Cinnamon, Ground Pure Vanilla Beans.
Share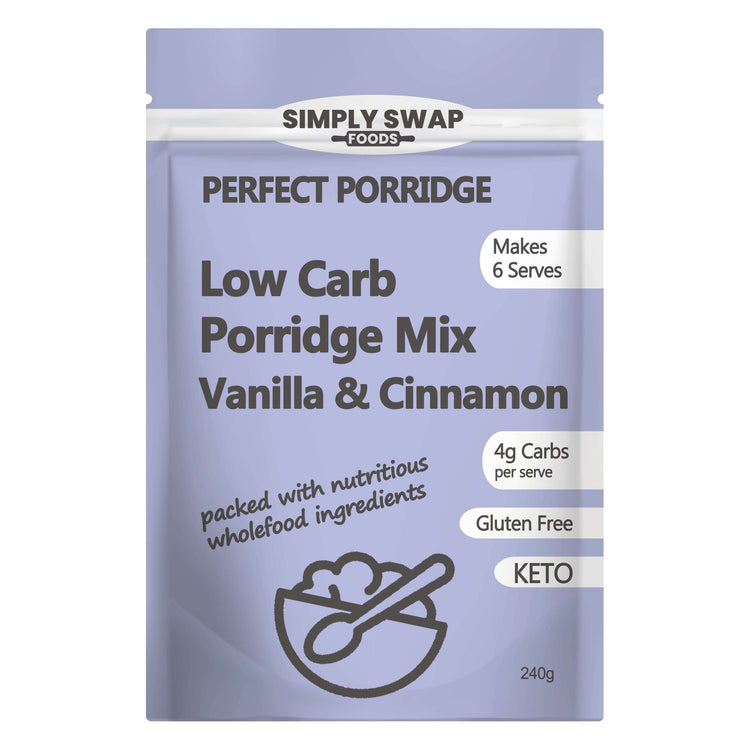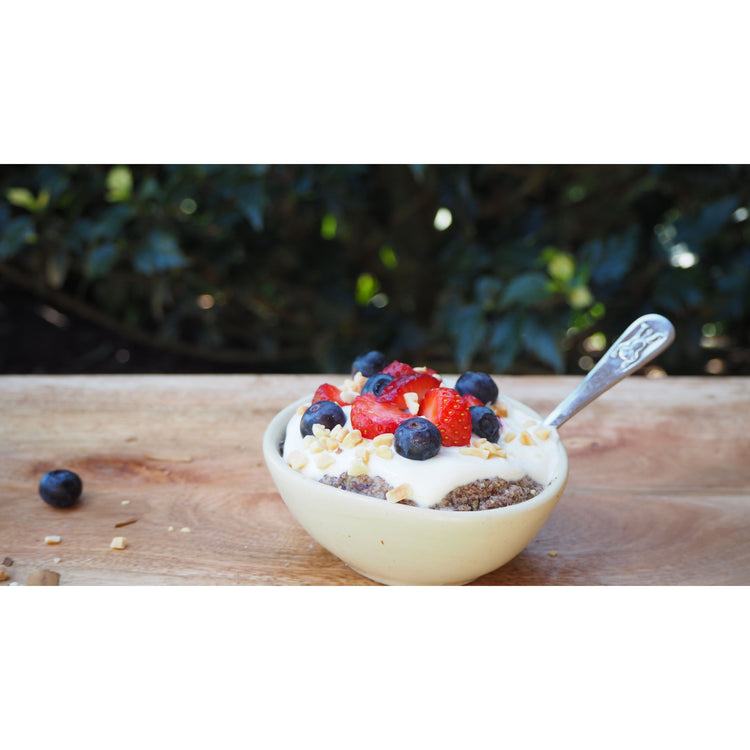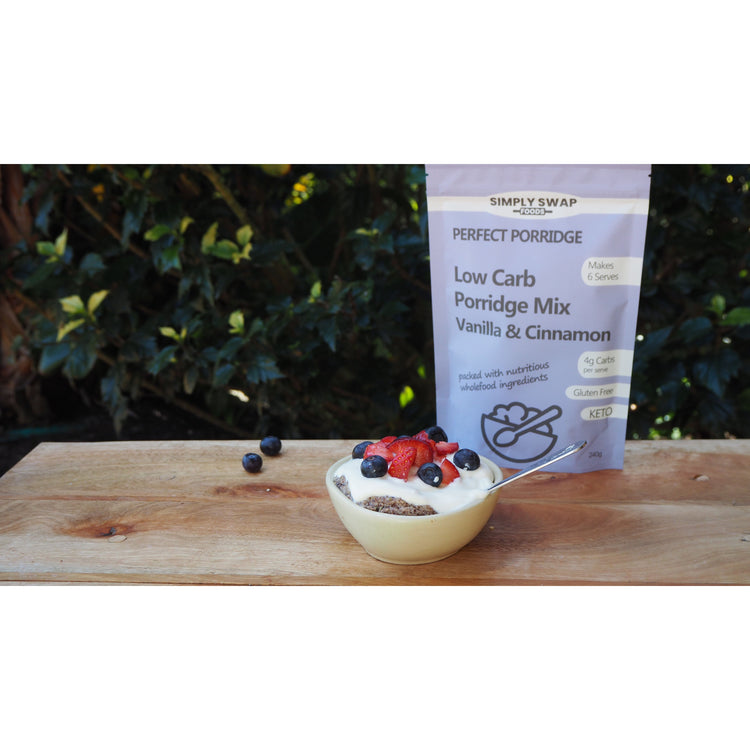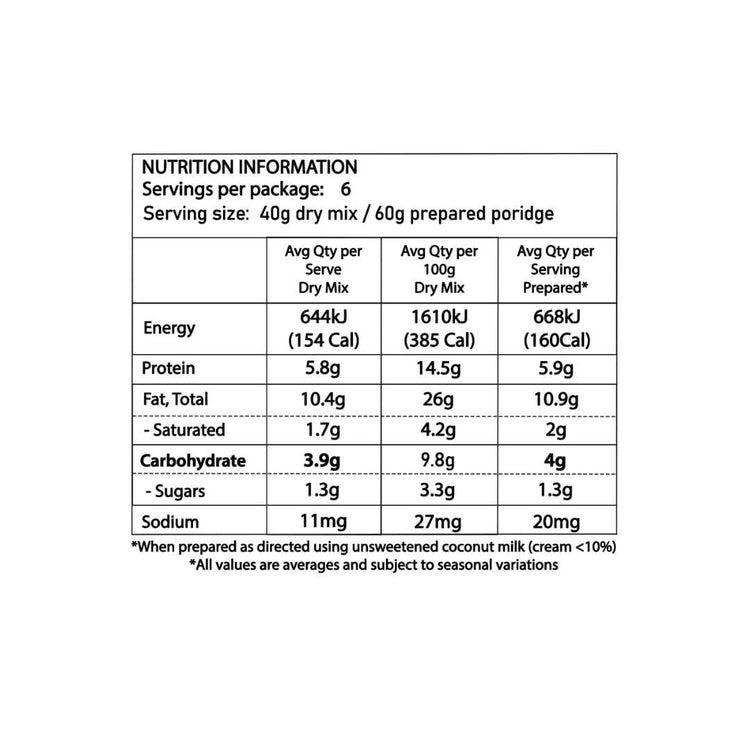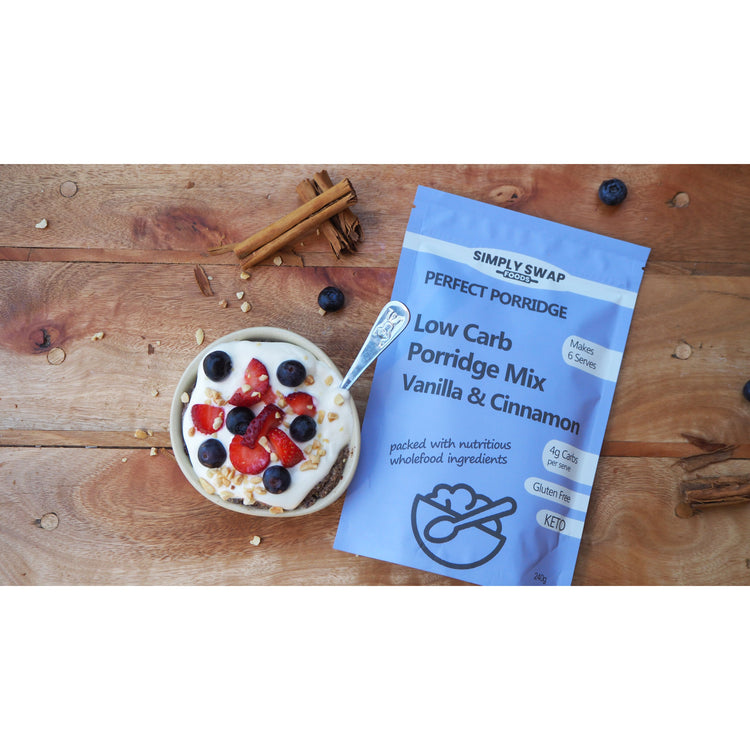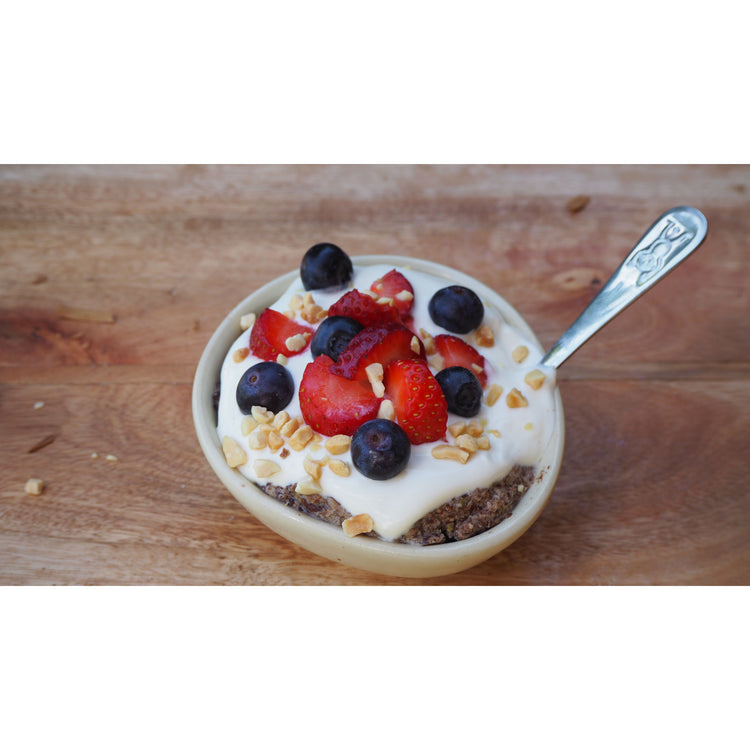 Simply Swap Keto Porridge has become a staple in my house. My favourite way to serve it is sprinkled on Greek yogurt and topped with berries, nuts and seeds. This is my go to quick meal and I often have it for dinner on the weekends - quicker than takeaway and with a dollop of cream it's like dinner and desert rolled into one! Tastes great hot or cold and has no nasties. Five stars!
That's so wonderful to hear Trish, thank you for sharing! Your topping sound delicious and we love it hot or cold too.
Yummy
Bought this product from a health food store at Karingal hub. I was really missing porridge on cold mornings and a little over eggs!
This is so delicious and easy to make.
Thanks so much Elfie! So happy you're enjoying the porridge, it's great weather for it at the moment
Delicious !
I really enjoy this porridge with some greek yoghurt and berries. So filling and delicious. Thank you for making such a wonderful product 🙏
So happy to hear you're enjoying the porridge, greek yoghurt and berries is my favourite topping too! Really appreciate your review, it helps so much ❤
Perfect porridge
Im really enjoying this porridge. So quick, simple, tasty and healthy. I use almond milk and natural yogurt with a few berries and it hits the spot every time.
Yes, we love them with yoghurt and berries too, a great combination! Thanks for sharing Isabel ❤️
Delicious sugar free porridge
This porridge is so simple. Milk and 60 seconds in microwave. My wife loves it with berries on top. Delivery is very quick and packaging is excellent. Highly recommend Simply Swap Foods.
Thanks so much Mark! Love hearing you are enjoying the porridge, berries on top is my favourite too